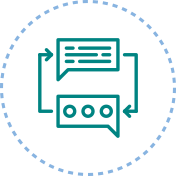 CONSECUTIVE
INTERPRETATION
Consecutive interpreting is a type of interpretation where a speaker pauses at the end of each address to allow the interpreter time to deliver the same speech in the target language.
It is suitable for meetings, showing facilities to visiting customers, negotiations, etc...
They will ensure all communication is conveyed accurately so quality is always guaranteed. Since this type of interpreting is often done in small settings with only a few people, technology is not as important as it is to simultaneous interpreting and therefore making it convenient and cost-effective.
CONTACT US


FOR A FREE QUOTE